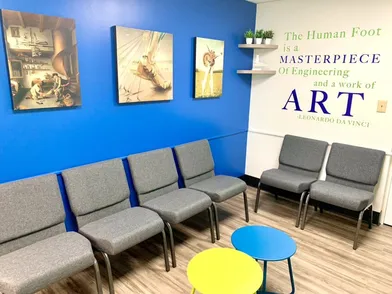 Podiatrist - Louisville Office
This page provides you with practical information about our practice. It includes descriptions of our office location, including a map and directions, hours, appointment scheduling, insurance acceptance and billing policies.
New Horizons Foot and Ankle Associates, PLLC
1169 Eastern Pkwy
Louisville, KY 40217
Phone: 502-808-3668
Fax: (502) 289-9970
Appointments
We know you have many choices when choosing a Podiatrist in Louisville, KY, so we have made requesting an appointment a simple process via our website. If, for any reason, you cannot keep a scheduled appointment or will be delayed, please call as soon as possible. Charges may be incurred for appointments cancelled less than 24 hours before scheduled appointment time.

Insurance and Payment Alternatives
Our office accepts a variety of HMOs, PPOs, and other health plans. Please call our office to verify acceptance of your insurance carrier. While we will make an effort to reach out to your insurance carrier to verify coverage, it is ultimately the responsibility of the patient. Some of our services may not be covered by your insurance carrier. In the event a service is not covered by your insurance, we will provide you with affordable, alternative payment options. Any unpaid balance - whether self-pay, payment plan, or insurance pay - is ultimately the responsibility of the patient. Co-payments as required by your insurance carrier are due at the time of appointment. If you would like more information, or have any questions regarding our billing terms and policies, please call us at (502) 808-3668.